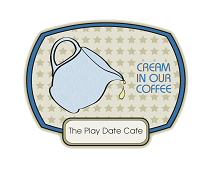 Woohooo I just realized I made the Cream @ TPDC!!!! Thank you girls for stirring me in your cup on my first try!
A close up for Laura's sketch this week, had a lot of fun playing with "Olivia" today!
I hand dyed the ribbon using Maya Mist and rinsing it to get just the slightest hint of pink to match the card
Here's the full card, pretty cool sketch.
Next one is the colors of Provence , France
This one is inspired by the Provence challenge @ the Play Date Cafe, a while ago Julie asked me to come over and play...I guess this colors inspired me beyond words. The sketch for this one is mine, I took advantage of the Sassafras PP and just played along! The ribbon is hand dyed using Tiger Lilly Gimmer Mist to match the challenge colors. And the stamp is Inkadinkado.
Here is my sweetie who just celebrated her B-Day yesterday, dressed and "tatooed" as
Barbie Merliah!