journey with Christine's instructions. I loved the concept and decided it was something we needed to be reminded of the happy and blessed moments we get to enjoy in life.
The Caribou card was so fun to make, although I didn't follow a particular size, or orientation for that matter, LOL I ended up making a horizontal version and adding here and there different things. But experimenting with the glitter and the hand cut circles was so much fun!
This photo is from one of my favorite places ever, a place that brings me so much comfort and happiness. It is a small island off the Eastern Coast of Puerto Rico named
Culebra
. Whenever we go I just go into a state of pure bliss. We got the chance to visit again this past Sunday and we snorkeled among green turtles and spotted eagle rays
ph
oto credit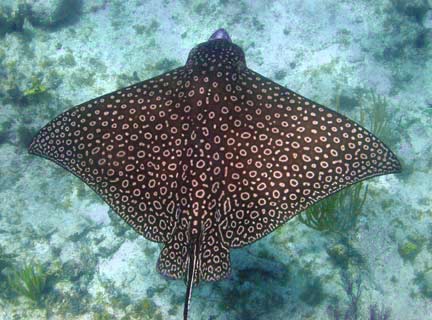 So it was a fantastic day we enjoyed as a family and I don't want to forget, a true happy memory!
Well since I didn't have Christine's stamps I decided to improvise and doodle with a white gel pen,
I painted the circles with Dylusions ink sprays, the color saturation is incredible and to me they scream Caribbean
I went with Bubble gum pink, squezzed orange (turned up covered...) and fresh lime, for the turquoise I used a Kaisercraft acrylic paint, for the gold I went with a Krylon pen and then sprinkled some gold glitter, yum...
my butterfly is a wooden specimen from Studio Calico, the tag is American Crafts, the gray base is Crate Paper, the ivory base is recycled button carton (refer to my previous post), Making Memories transparencies, BG tags, Echo Park rulers, Queen and Co twine, sugared pearl by Pebbles and arrow by Smash (K&Co)
I can't wait for the next experiment, in the meantime I will keep writing down my happy moments!
The next project also form our visit to the island is a LO I made using
I should make you play the guess what OA collection I used as I used several ;)
I just loved adding bits and pieces to this!
I documented around the page , and just loved how it sort of says "play games at the beach"
Well I hope you have a great Father's Day tomorrow, as always thanks for stopping by